Festival Information
Festival Dates & Hours
BBQ Music Fest takes place from Friday, August 19 to Sunday, August 21, 2022 at Fountain Valley Sports Park in Fountain Valley, CA. The festival hours are Friday 5-11PM, Sat. 12NOON-11PM and Sun. 12NOON-8PM. Times are subject to change without notice.
Box Office Location & Hours
Box Office is located at the Main Gate Entrance. Ticket Box Office opens 5PM on Friday and closes by 10PM, on Saturday it opens at 12NOON and closes by 10PM, on Sunday it opens at 12NOON and closes by 7PM. Times are subject to change without notice.
Health/Safety
Vaccination is NOT REQUIRED. Face masks will be required consistent with state, county, and city guidelines - this event is classified as an outdoor event. Guest will be responsible for ensuring social distancing during the event.
Your health and safety is our top priority, so we've worked to ensure your visit is fun and stress-free. Exposure to COVID-19 is an inherent risk in any public location where people are present; we cannot guarantee you will not be exposed during your visit. Guests should evaluate their risk in determining whether to attend. BBQ Music Fest makes no representations, warranties or guarantees, express or implied, regarding the implementation of health and safety-related procedures and protocols, all of which are subject to change.
We have strict cleaning and sanitizing procedures in place. We will have hand sanitizer locations stationed throughout the experience. We encourage you to use these stations.
Attendees must agree to terms of entry at the event which will include the following:
No COVID-19 related symptoms in the past 72 hours.
No known positive COVID-19 exposures in the past 14 days.
Contact information (name, phone number and email address) for at least one person in your group.
All BBQ Music Fest staff, vendors and contractors will also be screened for symptoms upon entry.
While BBQ Music Fest looks forward to welcoming everyone to the property,BBQ Music Fest sincerely encourages all visitors to closely consider all current local, state and federal guidelines and all available public health information prior to visiting BBQ Music Fest.
Re-Entry
If you need to leave the festival and return the same day, you may get your hand stamped at the front gate, which allows re-entry.
Handicap Accessibility
The venue and bathrooms are wheelchair accessible.
Children at BBQ Music Fest
Coming to the festival with kids in tow? BBQ Music Fest invites fans of all ages, including kids! On Saturday and Sunday there is a children designated area: Magic Shows and Balloon Twisting (Sat./Sun.) and Face Painting. Also, there are carnival rides and games. The children's stage opens at 12NOON and closes at 6PM on Saturday and Sunday and creates an environment for parents and children to enjoy family-friendly entertainment. Remember to share these memories with your kids by stopping by the FREE Souvenir E-Photo booth to capture the fun! Times are subject to change without notice.
Also, Children 12 years old and younger will be admitted free of charge with a ticket-holding adult. Does not include food, drinks, carnival rides or games.
Food Court
The festival has a food court serving up the best BBQ in town, including non-BBQ related items from local eateries. There's something for everyone: Mexician, American, Chinese, Thai and other international foods and delicious desserts, adult beverages (beer, wine, and specialty drinks) and of course, BBQ Meats (Sausage, Pulled Pork, Pork Ribs, Tri-Tip, Chicken, Kabobs and more). Each year the selection may vary.
Cash & Credit Cards
There are ATMs at several locations throughout the festival grounds with applicable service fees. Some vendors accept credit cards, including the Festival's Box Office.
Allowed & Prohibited Items
Guests and their belongings are subject to search upon entry or re-entry.
The following items are ALLOWED* at BBQ Music Fest:
Folding chairs are permitted in designated area. NO Tents, lawn chairs, hammocks or canopies are allowed.
(1) One unopened bottle of water per person.
Backpacks
Binoculars
Blankets, Sheets, Towels
Cameras (basic point and shoot consumer-grade cameras)
*SUBJECT TO CHANGE
The following items are PROHIBITED* at BBQ Music Fest:
Sorry, no pets are allowed in the festival site. The only animals that are allowed on our grounds are service animals. California Civil Code Section 54.2 (a) Every individual with a disability has the right to be accompanied by a guide dog, signal dog, or service dog, especially trained for the purpose, in any of the places specified in Section 54.1 (Right of full and equal access to places of public accommodation) without being required to pay an extra charge or security deposit for the guide dog, signal dog, or service dog. However, the individual shall be liable for any damages done to the premises or facilities by his or her dog. It is a misdemeanor to fraudulently misrepresent service animals.
NO PICNIC COOLERS, BASKETS, OUTSIDE FOOD OR DRINKS ALLOWED IN THE FESTIVAL SITE.
City Ordinance NO SMOKING in public parks and recreational facilities in the City of Fountain Valley.
No outside food or beverage (including alcohol) of any kind. All food and beverage items must be purchased at the Festival. EXCEPT FOR (1) one unopened bottle of water per person.
You may not bring alcohol into the festival site and you may not take alcohol outside of the festival area.
No Glass Containers.
No Firearms, explosives, and weapons of any kind (including pocket knives, pepper spray, fireworks, etc).
No Illegal and Illicit substances of any kind.
No Gambling or illegal activity of any kind.
No Drugs or drug paraphernalia.
No Skateboards or scooters.
No Bicycles inside the festival grounds.
No Tents, oversized umbrellas, canopies, hammocks, or shade structures of any kind.
No unauthorized/unlicensed vendors. No unauthorized solicitation and materials including handbills, flyers, stickers, beach balls, giveaways, samples, etc.
No Large wallet and waist chains that exceed 12 inches in length and width of 1 inch.
No Bicycle chains and other such chains will not be allowed.
No Inflatable furniture. Rafts, chairs, etc.
No Gang affiliated attire.
*SUBJECT TO CHANGE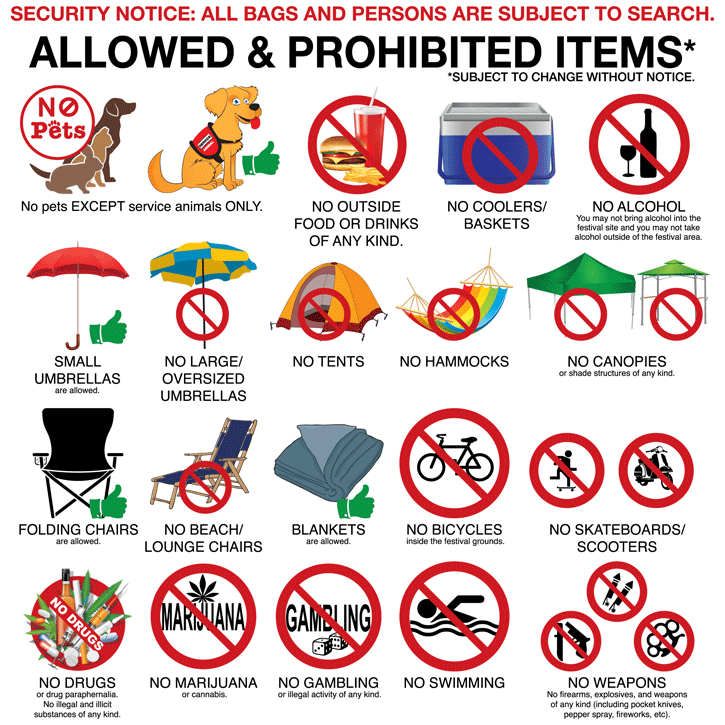 Security Screening & Entry
For the safety of everyone entering the festival, all patrons are subject to a full and complete search prior to entry.
Please review the Allowed & Prohibited items list for a stress-free entry process.
By purchasing a ticket, you agree to submit to a search before entry.
All bags will be searched before entry. Persons that refuse to comply with the search policy will be refused entry into the event.
Getting to BBQ Music Fest
Festival Location
Fountain Valley Sports Park at 16400 Brookhurst Street, Fountain Valley, CA 92780
Entrance is at Brookhurst Street and Heil Avenue. GET DIRECTIONS

ADA Handicap Parking
If you have a handicap placard, handicap parking is available. Enter at the BBQ Music Fest street entrance to be directed to the designated parking lot by security personnel.
Where Is The Entrance to BBQ Music Fest?
When you make your way to Fountain Valley Sports Park there is one entrance which will be clearly marked. SEE MAP
What Are The Parking Options For BBQ Music Fest?
Parking is available throughout Fountain Valley during the event. We recommend parking in the Fountain Valley Sports Park Parking Lot that is located at the event. To help you come and go from BBQ Music Fest, please visit the PARKING PAGE.
Where to Stay
If you're coming in from out of town and want to book lodging near the festival, CLICK HERE for information on the hotels nearest to the BBQ Music Fest.
Ticket Information
What Types of Tickets Are Available?
1-Day General Admission Ticket - Enjoy the specific artists performing and festivities on the given day for which you buy a ticket. A wide variety of food options are available for purchase.
To purchase your ticket or for more details go to our TICKET PAGE.
Do I need to purchase tickets ahead of time or can I purchase tickets at the door?
Tickets can be purchased upon arrival at our box office. Tickets are generally higher than pre-sale tickets. Be sure to take advantage of our $2 DISCOUNT COUPON.
Group Sales
Planning a group outing to the BBQ Music Fest has never been easier. For group GENERAL ADMISSION tickets, purchase 6 or more and receive a 10% discount that is automatically applied to your order at time of purchase.
Additional Group Pricing varies on size of group, please submit your request by email (preferred) at CONTACT US or by phone at (562) 495-5959.
Questions About An Order Already Placed
If you've already purchased your Ticket and need to change the date, Tickets purchased on this site FOR: SATURDAY OR SUNDAY ONE-DAY Admission are valid for either Friday, Saturday or Sunday. You do not need to contact us. You can use your tickets on Friday, Saturday or Sunday once for redemption. THIS DOES NOT APPLY TO FRIDAY $5 ADMISSION TICKETS. Friday Admission tickets MUST BE REDEEMED on Friday Only.
If you did not receive a order confirmation email. Please first check your spam/junk folder. If not there, enter your email address HERE to resend your order confirmation receipt. If you still have not received it CONTACT US as there might be a typo in the email address that you submitted at the time of your order. Otherwise, bring your ID and check in at the Will Call booth near the Main Gate Entrance.
Or if you have a general question about your order, please email at CONTACT US.
Ticket Issues on Day of Event
BBQ Music Fest Will Call staff is ready onsite during the festival to answer any questions or concerns you might have such as not receiving your order confirmation email, etc. Bring your ID and check in at the Will Call booth near the Main Gate Entrance.
Frequently Asked Questions
HAS YOUR QUESTION ALREADY BEEN ANSWERED?
For further questions not addressed check out our FREQUENTLY ASKED QUESTIONS (FAQs) PAGE.
Contact the Festival
For any and all questions, please feel free to CONTACT US. Email is continually monitored before, during and after operating hours. You will be contacted.